10.
Sanya Daxiao Cave Park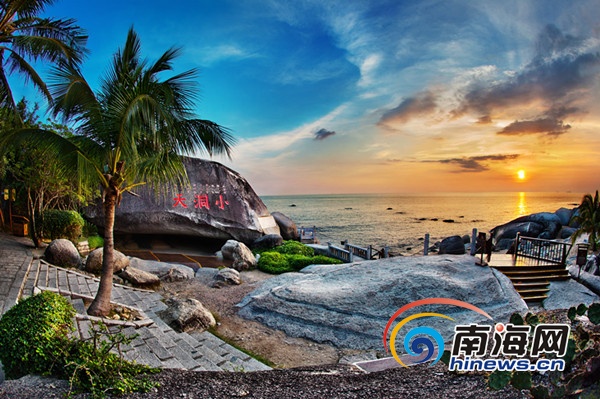 This pleasant park features an alluring rocky coastline, mountain hiking trails, caves to explore, outdoor picnic areas, whimsical stone statues, and a small fossil museum with dinosaur eggs and other local fossils. The expansive area of the park provides lots of places to get away from the crowds and enjoy nature. The beach is not suitable for swimming, but is terrific for rock climbing.
http://www.sanyapark.com/
9. Haitang Bay
Pristine sands and newly built luxury resorts will greet you in Sanya's Haitang Bay. Secluded from the hustle and bustle of daily life, this quiet resort area provides high class luxury pampering and relaxation. If you are looking for some peace and quiet in an area with unparalled scenic beauty, come on out to Haitang Bay!
http://www.haitangbay.gov.cn/
8. Yanoda Tropical Rainforest Park
How do the locals say hello in Hainan? It's Yanoda! At this tropical rainforest park you can cross the romantic Rainbow Bridge and have your ears tugged by local minority girls, fly over the forest on the thrilling zip line, hike up waterfalls, and camp in tents in the rainforest!
http://www.yanoda.com/
7. Dadonghai Bay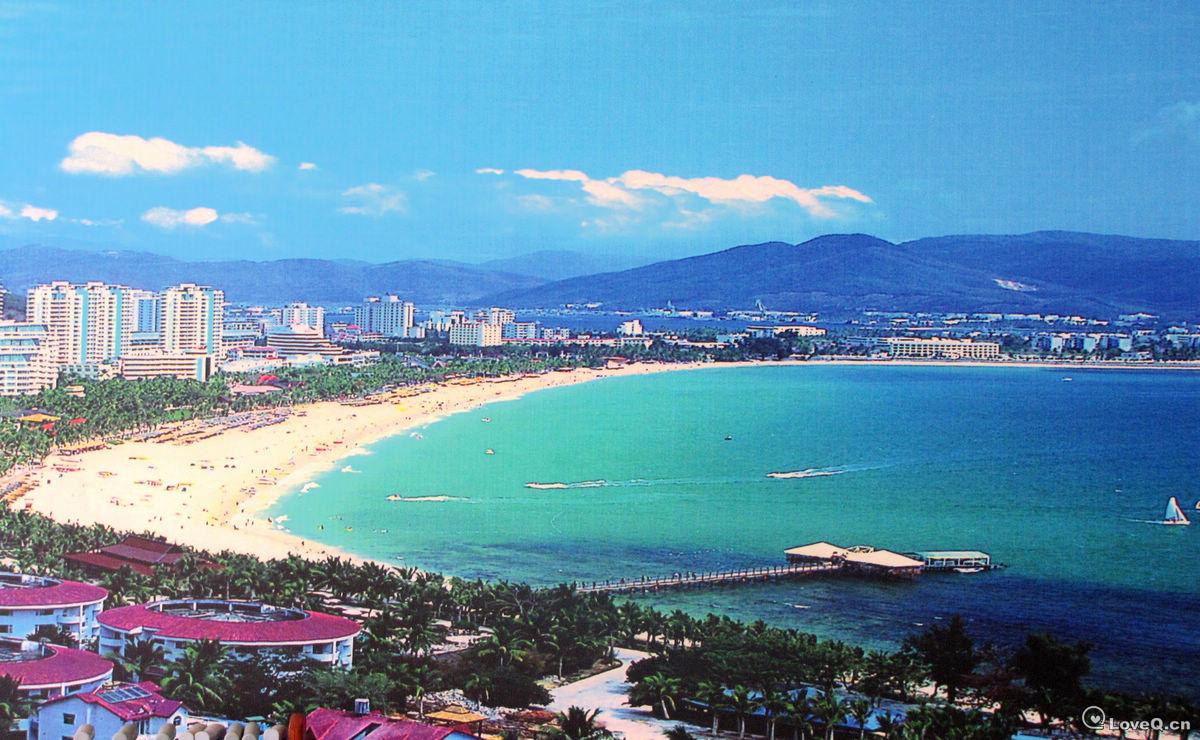 This beach area in Sanya City has everything – a boardwalk lined with bars and seafood restaurants, top hotels, tropical fruit stalls, bustling malls, and of course the beautiful beach. Come down to, get a tan, have some dinner, listen to live bands playing on the boardwalk, buy some Sanya souvenirs, and have a fabulous time!
6. Sun and Moon Bay (Riyue Wan)
The Riyue Bay Surf Club, located in beautiful Sun and Moon Bay, Wanning, provides board rental, surfing lessons, hostel accomodations, pizza, chilled import beer, and more. Other hotels are also located nearby, for additional accomodation options. This is the best surfing beach in Hainan, and arguably all of China, and several international surfing competitions are held here every year. Non-surfers will also enjoy the clean water, local hikes, and relaxed beach atmosphere at Sun and Moon Bay.
http://new.surfinghainan.com/
5. Haikou Mission Hills Resort Spa Volcanic Mineral Springs
Relax in the therapeutic waters of the over 200 hot and cold springs at Volcanic Mineral Springs. Each spring is infused with an herb, spice, or features other theraputic health benefits. The benefits of each spring are helpfully listed beside each inviting pool, along with the pool's temperature. A few of the available springs include: Mint Spring, Mud Fountain, Dead Sea Spring, Crystal Energy Springs, Aqua Massage Spring, Coffee Spring, and so, so many more.
http://mineralsprings.missionhillschina.com/en-us/springs.html
4. Nanshan Temple Park
Featuring a 108 meter tall triple faced Guanyin statue, a large temple complex, vegetarian restaurants, and extensive beautifully groomed grounds, Nanshan Temple Park is a Buddhist paradise.
Entrance Ticket: 150RMB/person
Bus: 30RMB/person
Gold & Jade Kwanyin Statue:20RMB
Vegetarian Food Buffet:78RMB/person
http://www.nanshan.com/en/
3. The End of the Earth (Tianya Haijiao)
The rocky shores of Tianya Haijiao are steeped in legend. Also known as the End of the Earth, this seaside park is full of giant rocks in every shape, many of which feature carved inscriptions such as "The edge of the sky" or "The end of the sea." The breathtaking backrounds make this a popular photography spot, especially for newlyweds.
Ticket Price: 89 RMB
Hours: 8AM-6PM
2. Wuzhizhou Coral Island
This small island off the coast of Sanya is a great place to try some water sports, go hiking, or get a tan on the beach while sipping from a coconut! Take the ferry to Wuzhizhou for an island adventure!
Ticket price: 168 RMB
Hours: 8:30 AM – 5:30 PM
Hotline: 400-114-6666
http://wuzhizhou.com/en/
1. Yalong Bay
Yalong Bay has a long clean white beach. The water is perfect for swimming and many 5 star resort hotels pamper guests with gourmet food, sparkling swimming pools, and luxury spas, making this the number one attraction for visitors to Hainan. Come on down, the water is fine!
Hope you enjoy your trip to Hainan – and let us know how many of these great spots you made it to, or if there's another perfect destination you think should have been included!
By Nicki Johnson
8/1/14