very month the official tourism website of Hainan,
Visit Hainan
, puts out a new Hainan Top Ten List! This month – the top ten nightlife hotspots around Hainan! Things really begin to heat up when the sun goes down here in Hainan. Don't miss the party – check out our top ten nightlife hotspots!
1. Night Markets
After dark the city comes alive, and night markets come out of nowhere to light up the darkness. Everything is for sale, from souvenirs to snacks to jewelry to fresh coconuts to clothing... and more! These markets are often chaotic and crowded, so keep your wits about you. Don't forget to bargain for the best price, and have fun experiencing this great local tradition!
2. Night Cruise
Head out on the water for a perfect Hainan evening. The deck of a boat is the perfect place to appreciate the glittering lights of the shore, bask in the cool evening breeze, and watch the moon rise over the water. Choose a small boat for an intimate evening with just a few close friends, or a large one for a floating party that can go on all night! Many of these boats offer dinner and entertainment on board as well, the options are endless!
3. The Beach
You may be used to going to the beach to soak up the sun, but in China it's much more popular to go to the beach at night! Take a romantic stroll down the glimmering shoreline, get a late night BBQ snack, listen to the bands playing on the beachfront, or dip your toes in the deliciously cool water!
4. Go to a Show
If you enjoy the theater, you will be pleasantly surprised to find that there are lots of exciting shows to choose from every evening in Hainan. In Haikou, head out to see Impression Hainan, a quirky spectacle all about the fun of visiting the tropical island of Hainan. In Sanya, you can see a show at the Beauty Crown Center, the Guoxi Hotel, or head out to the Spiral Show in Haitang Bay. For something completely different, go to the Bizarro Show, which features crazy sportscar stunts and heartpounding action.
5. Get a Midnight Snack
Coconut rice, Fried Ice, and Qingbuliang – yum!
Every evening the sidewalks of Haikou and Sanya are lined with snack stalls. These wheeled stands offer everything from BBQ to noodles to Hainan specialty desserts like Fried Ice and Qingbuliang! Some snacks are spicy, some snacks are sweet, some snacks have to be tasted to be believed. Best of all, evening street snacks are a cheap and convenient way to get a taste for the Hainan way of life!
Here are a few of the many many snacks you can try in Hainan: http://en.visithainan.gov.cn/en/snacks.htm
6. Be dazzled by the lights
Sanya's Rainbow Bridge, Haikou's Century Bridge
Go out for a stroll in Haikou or Sanya and enjoy the magnificent night lights of the city. In Haikou, take a stroll by the river and get a glimpse of iconic Century Bridge. In Sanya you can't miss the laser light show from the peak of Luhuitou! Traditional Chinese lanterns are strung along storefronts, and brightly lit skyscrapers blaze in the heart of downtown. The mix of traditional and modern provides a dazzling view into the heart of Hainan.
7. Play a round of golf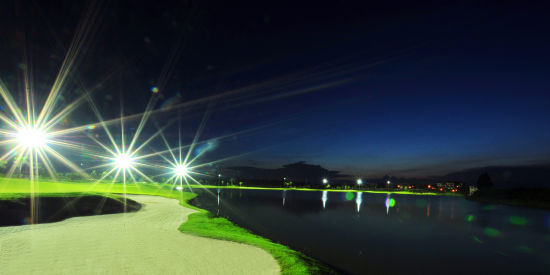 Playing golf under a tropical sun is just too hot? No fear! Many of Hainan's lush golf courses are open in the evening for a cooler, breezier Hainan golf experience. The fairways are lit up and ready for you!
8. Dance the night away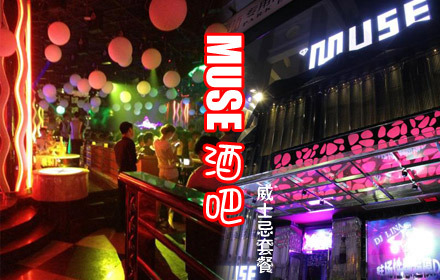 Hainan's got rythym, Hainan's got style. Head on out to the clubs for an unforgettable night of pulsing lights and unstoppable beats. Downtown Haikou and Sanya both boast glittering nightclubs and KTVs, where you can dance, sing, drink, and even sing until the sun comes up!
9. Go Camping
Why not spend the whole night under Hainan's glittering stars? There are lots of great camping sites, perfect for a nature lover. The beach is a popular location, but don't forget about Hainan's extensive nature reserves! Hike through the tropical rainforests, and set up your tent on top of the mountain! For those who prefer a few more creature comforts, RV camping is a great option as well.
10. Soak in the Hot Springs
After a long day of adventure and excitement, why not treat yourself to an evening hot spring excursion? Hainan features hundreds of natural hot springs, full of top quality mineral spring water, and evening is the most popular time to go. The healing waters will relax you, and the excellent mineral water will add a bit of healthy sparkle to your skin! Haikou's Mission Hills is a very popular choice, due to the hundreds of pools infused with healing herbs and soothing scents, such as Sakura cherry blossom pool, Dead Sea salt springs, Gingko Hot Spring, and many, many more.
9/10/14
by Nicki Johnson