While Hainan will never be cold, the cooler temperatures of fall and winter make it a perfect time to go out for an invigorating hike. There are plenty of absolutely fantastic hiking spots on the island, and this month we are highlighting the top 10 hikes for you here at Visit Hainan.
First, a couple of tips. Notify others of your hiking plan, and keep them informed about where you are and when you plan to return. Keep your cell phone charged for your hike. Cell service is generally quite good, even in fairly remote areas and on mountaintops. If you get into trouble you will be able to call for help. Wear a hat, sunscreen, and carry plenty of water and some snacks.
Ok, now, on to the hikes!
10. Haikou Volcano Park 雷琼世界地质公园
Haikou Volcano Park is a national park located approximately 15 km west of Haikou, Hainan, China. It is named for a crater, one of many extinct volcanoes on the island. The eruption of the ancient Qiongbei Volcano left many intact volcano craters here. According to geologists, the last eruption happened about 13,000 years ago. Now, 36 volcano craters can be seen here, the highest being Saddle Hill, which is about 222.8 meters high.
Today, the park has a volcano cultural garden, ecological garden, green corridor, and the crater garden. The pleasant hike up the extinct volcano crater is not taxing, and only takes about half an hour or so.
The area is filled with greenery and lakes and there are lots of other paths to explore, and even some volcanic caves. The Volcano Park has a restaurant, gift shop, and geological museum, which make this a great family friendly hike.
Tickets: 68 RMB/person
9. Haikou Mangrove Forest 海口红树林
Photo: sxdaily
On the outskirts of Haikou there is a large mangrove forest filled with migrating birds and other native Hainan wildlife. The mangrove forest is criscrossed by newly built boardwalks, which provide a great way to hike through the wetland area. If you get tired of walking, there are boat tours, rest pavilions, and restaurants here as well.
8. Bamen Greenways 八门湾绿道旅游
The Bamen Greenways, a network of biking and hiking trails, pass through four towns, namely Wencheng, Dongge, Wenjiao and Dongjiao. The greenways encompass a total of 45 km of paths, and another 9 km of side routes. The trails pass over mangrove forests on boardwalks, through small local villages, coconut groves, and along riverbanks. There are many convenient tourist stations set up along the paths to provide information, snacks, shelter, rest areas, and more.
Photo: seeyoo
For more information about the Bamen Greenways please contact:
Hainan Wenchang City Tourism Development Committee. Tel: (0898) 6333 0216
Wenchang Tourist Information Service Centre. Service hotline: 12301
Wenchang City Tourism Investment Holding Co. Ltd. Tel: (0898) 6326 9000
7. Mission Hills Haikou Eco-Trail 海口观澜湖
Photo: hkwb
Mission Hills Haikou is a massive golf resort, with 10 golf courses, a luxurious clubhouse, hotel, spa, hot springs, and more. The complex was built on volcanic rock, which has been used throughout the resort in construction and decoration. While hiking the Eco-Trail, you will need good hiking shoes because the whole trail is covered in these volcanic rock boulders. The trail skirts the edges of the massive golf courses, and is bordered by strips of the original local forest. The resort is happy to provide a guide who will tell you all about the flora and fauna, and even call a golf cart to pick you up if you get too hot or tired from the hike. After finishing the trail, I recommend a nice long soak in the hot springs. Try the Dead Sea Spring, the Vanilla Spring, Hot Sake Spring, or one of the hundreds of other hot springs infused with different healing herbs and scents!
The Eco-Trail is free of charge, but staying at the resort or being pampered in the hot springs are not.
The two Eco-Trails and Eco-Gallery of Mission Hills Haikou were constructed with the guidance of Costas Christ, one of the world's foremost experts on sustainable tourism. In presenting this program, Mission Hills wishes to provide you a relaxing and healthy experience, and at the same time, inspire your appreciation of nature.
Eco-Heritage Trail
Location: Blackstone Course
Lengths: 1.0 km
Hours: 08:00 – 18:00 (Entry is not permitted after 17:00.)
Eco-Diversity Trail
Location: Vintage Course
Lengths: 4.0 km
Hours: 08:00 – 18:00 (Entry is not permitted after 17:00.)
Eco-Gallery
Location: Bamboo Pavilion -- Next to the Spa Main Building
Hours: 08:00 – 18:00
Four Dynamic Sustainability Themes:

         Nature
         The Earth in Peril
         Creating a Sustainable Future
         Mission Hills - A Sustainable Leader
Call 0898-6868 3888 ext. 61808 for more information!
http://eco.missionhillschina.com/html/en-us/index.php
6. Tonggu Ridge 铜鼓岭
Tonggu Ridge, located in Wenchang on Hainan's East Coast, is of medium difficulty. The area is somewhat remote, and some Chinese language ability will be very useful in navigating this area. The breathtaking views from the top of the ridge are well worth the trip, and the climb is pleasant, passing through areas of dense tropical rainforest. It is possible to drive to the top of the ridge, and many hikers enjoy walking up and riding down. Entrance is free of charge.
More photos: Tonggu Ridge
5. Diaoluo Mountain 吊罗山
Diaoluo Mountain, located near Lingshui, with an average temperature of 20°C and an annual rainfall of 2,160 millimeters, is a paradise for plants. There are 3,500 different kinds of plants and 250 species of flowers in the forest. Hiking here you will be able to visit some of the most spectacular waterfalls in Hainan, Fengguoshan Falls, which consists of four seperate major falls, countless smaller falls, and also features several large clear pools of water. The changing seasons transform the natural scenery of the waterfall throughout the year. The most magnificent fall is over 60 meters wide and has a maximum drop of more than 150 meters. It flows swiftly year-round.
Photo: Baidu
Many kinds of wild animals also live here, including civets, macaques, clouded leopards, anteaters, deer, peacocks and boa constrictors, plus more than 20 kinds of butterflies. You'll be sure to see something interesting!
More Photos: 吊罗山
4. Bawangling National Nature Reserve 海南霸王岭国家级自然保护区
The Yajia Waterfall is located on the Yajia Ridge with a height of about 1,000 meters. As roaring water falls down, visitors can almost feel the force of it against the rocks. When in full flow during the monsoons, 15,000 cubic meters of water fall down the cliff every second.
The hike between Bawang's mountain pass and peak is mostly straight up and takes around two and a half hours. While it's often humid, the park's altitude and unique ecosystem result in an average temperature of 19.7C. On a clear day, climbers who make it to the top of Bawang are rewarded with a 360-degree view.
With over 250 species per square hectare, enthusiasts can easily lose track of time while exploring the multitude of ancient paths and secluded caves in the rainforests of Hainan. The area is also one of the best places to see rare birds and insects, including a kingdom of butterflies with over 400 different kinds of butterfly species alone. Trail walkers who pass through quietly can spot exotic birds, indigenous flowers and fruits, as well as small clouded leopards roaming the forest and indigenous black gibbons sprawling along the roads and flying through the treetops.
Bawangling National Nature Reserve
Admission: RMB 30 per person
Tel: 0898-26883333
3. Seven Fairy Mountain 七仙岭
Seven Fairy Mountain, located in Baoting, offers a fairly, but not extremely, challenging hike. Hikers can take a tram to the trail entrance, and back down again. The trail is paved with steps, and there are occasional rest points which sometimes sell beverages and snacks.
Photo: Sina
The trail parallels a stream, and small waterfalls and pools can be seen and even waded in, providing a cool and refreshing diversion. The surroundings are full of life, from the lush rainforest, to the birds, insects, and small animals you will be able to spot as you climb. The last 200 meters to the peak is more difficult, involving a vertical climb which can be accomplished by pulling yourself up ladders and chains which have been secured to the rock face.
Photo: Chinanews
Even if you decline to climb this section, the rest of the hike is well worth the trip. After the climb, why not soak away any aches and pains in the many local hot springs?
Height: 1126 meters
Tickets to enter the Seven Fairy Mountain Park: 48 RMB/person
More photos: Seven Fairy Mountain
2. Wuzhishan 五指山
This is Hainan's tallest mountain, and one of the most challenging hikes on the island, and even in China. The mountian is densely forested, and offers spectacular views of the surrounding countryside along the climb, although the peaks are often shrouded in heavy mist. There are several routes to climb, one to a waterfall, and the others to the various peaks. Parts of the trail feature stone or metal steps, with railings, but other sections are steep rocky natural trails, with sections where you will need to climb up ladders or scramble up with the aid of tree trunks and roots. Be sure to arrive early in the morning, wear appropriate footwear, and carry lots of water and some snacks, as they are not available to buy once you enter the park. Ticket price: 50 RMB/person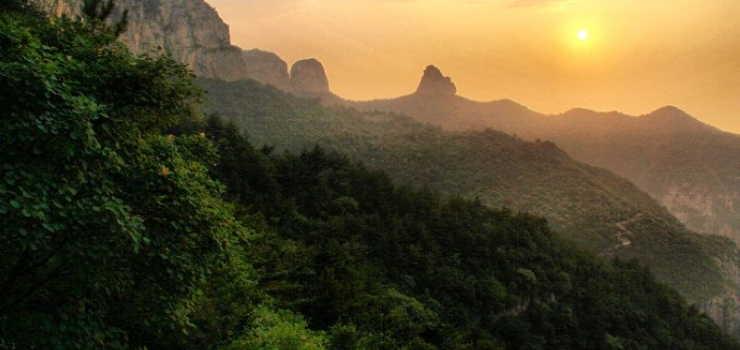 ATTENTION! International travelers wishing to hike up Wuzhishan Mountain may be required to obtain a special climbing permit. The permit can be obtained by one of the following three methods:
Apply through the China State Council or China National Forestry Bureau

http://english.gov.cn/statecouncil/

http://english.forestry.gov.cn/

Sign an agreement at the Hainan Province Foresty Department

http://lyt.hainan.gov.cn/

Inquire at the Wuzhishan Yatai Rainforest Resort for assistance in obtaining the required permit

Wuzhishan Yatai Rainforest Resort Website

Phone number: 0898-86665555

E-mail: ythotel@qq.com
More photos: Wuzhishan
1. Jianfengling Rainforest Park 尖峰岭
This vast rainforest preserve is criscrossed by clear mountain streams tumbling over boulders that are just perfect for scrambling over. The trails in the park are for the most part natural paths, unlike the cement paths and thousands of artificial step that hikers in many other Chinese parks must endure.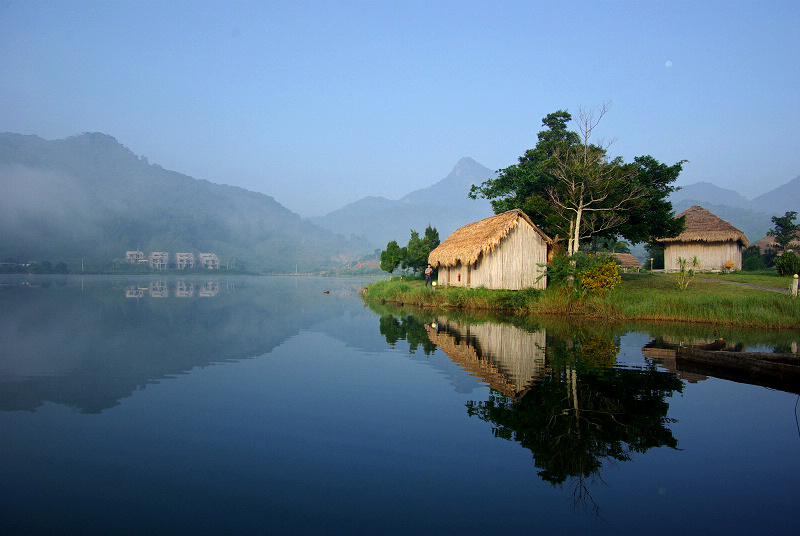 Visit Heaven Lake, hike up to the magnificent waterfalls, catch a glimpse of rare endangered forest life, climb the mountain peaks, or just spend some time relishing a chance to get away from the crowds and into a truly wild natural environment. While the hikes in this area are not terribly difficult, transportation to the area is somewhat inconvenient. It's best to arrange a private car. Entrance to the park costs 40 RMB/person. More photos: Jianfengling
Hope you have a great time hiking in Hainan! Stop by our Forum to tell us about any other amazing Hainan hikes that we missed!
by Nicki Johnson