Haikou is the capital and largest city of Hainan. Don't be fooled by the laid back island vibe - there's lots to do in and around the city! Here are Visit Hainan's top picks for fun Haikou activities:
1. Go to the Museum 海南省博物馆
The Hainan Provincial Museum is here in Haikou, and it's well worth the visit. Spend a few hours here browsing the exhibits, where you will see relics of Hainan's natural history, minority populations, local culture, and more.
Admission is free of charge but visitors must provide ID, such as a passport.
Exhibits feature signage in English and Chinese, and audio guides are available in English, Chinese, Japanese, and Russian.
Hours: 9 AM – 5 PM Daily, except Monday
No entry after 4:30 PM
Address: 68 Guoxing Ave., Haikou, Hainan
Website: www.hainanmuseum.org
2. Take a nature walk at the Mangrove Forest 东寨港红树林自然保护区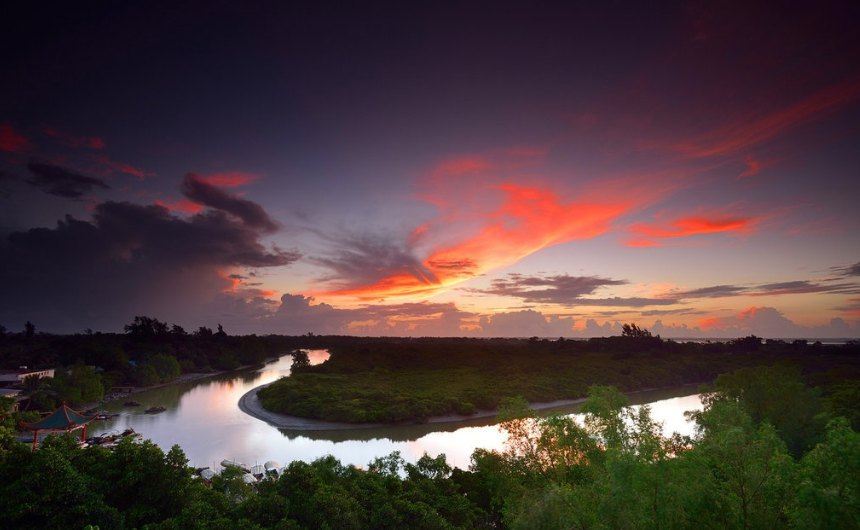 Haikou Mangrove Forest in Dongzhai Port is one of the major tourist attractions in Haikou, and has been placed on the UNESCO World Heritage Sites Tentative List. It's a great place to get out of the city for a nature walk.
The Mangrove Forest in Dongzhai Port is about 50 miles long, covering an area of about 4000 square kilometers. It includes six rivers, along with several bays and tidewater gullies. The mangrove trees grow directly from the shallow water of the harbour, and their intricate root systems anchor the soil, creating an excellent environment for other wildlife to flourish.
This is a wetland area where many rare species of plants and animals can be seen. About 159 species of birds inhabit the reserve, including many rare migratory birds. The best time for birdwatching is winter, when the park is filled with thousands of birds escaping the cold weather of northern China.
This beautiful nature reserve offers an excellent opportunity to get out of the city and take a non-strenuous nature hike or go on a relaxing boat tour. Walking along the boardwalk costs 22 RMB/ person, and boat tours cost 60 RMB/ person.
3. Soak in the Hot Springs at Mission Hills 海口观澜湖温泉
Travelling can be exhuasting. Need a break? Relax in the therapeutic waters of the over 200 hot and cold springs at Volcanic Mineral Springs. Each spring is infused with an herb, spice, or features other theraputic health benefits. The benefits of each spring are helpfully listed beside each inviting pool, along with the pool's temperature. A few of the available springs include: Mint Spring, Mud Fountain, Dead Sea Spring, Crystal Energy Springs, Aqua Massage Spring, Coffee Spring, and so, so many more. My personal favorite is the Cherry Blossom Spring – wow!
Ticket Price:
5 Zone Pass: 220 yuan/person
Asia Zone Pass: 98 yuan/ person
Website: http://mineralsprings.missionhillschina.com/en-us/springs.html
4. Step into the past at Movie Town 冯小刚电影公社
Located just next door to Mission Hills, Movie Town's streets are laid out like old time movie sets. Dress up in period costumes and take photos on 1942 Street, Socialism Street, or South China Sea Street! The movie theme park also has theaters, restaurants, shops, and special performances to enjoy.
This is a newly opened attraction, so some sections are still not quite complete as of summer 2015. What is ready looks like fun though!
5. Ride the Ferris Wheel at Baishamen Park
Actually, there's lot's more to do besides riding the ferris wheel! Beautiful Baishamen Park, located at the north end of Haikou's Haidian Island, contains a small amusement park, a lake, a stream criscrossed by small footbridges, a forest, a snack street, and a shopping street. The northern edge is a sandy beach on the Qiongzhou Strait where many people enjoy camping, riding ATVs, making bonfires, and lighting sky lanterns.
Haikou has several more great parks that are perfect for a stroll, including Evergreen Park, People's Park, and Golden Bull Ridge Park. Entrance to all of Haikou's city parks will cost you the same – nothing!
Hainan is home to nearly every variety of volcano in the world, and boasts the best preserved volcano in the country. At the Haikou Volcano Park, you can climb up into the mouth of a long exctinct volcano. The view from the top is excellent, and the hike is not demanding.
See different types of volcanic rocks, visit the Volcano Temple, eat freshly prepared local cuisine, and get some light exercise in the fresh Hainan air.
Tickets: 68 RMB/person
At the center of Haikou's Old Town is Zhongshan Rd., also known as Haikou's historic Qilou street. (Not to be confused with Qilou Snack Street! We'll get to that later.) This is famous street with a history of more than a century featuring multi-story southeast Asian style buildings integrating Chinese and European architectural styles.
The Qilou buildings have been recently restored, and are filling up with cafes, souvenir shops,
bookstores, restaurants, and other fun and interesting places. Visitors can buy a refreshing fresh cold
coconut, get sketched by a local artist, take beautiful photos, and wander through the many small
winding alleys branching off from Zhongshan Rd.
Cultural shows and exhibitions are often held here in the Qilou street, against the eye-catching backdrop of quaint cafes in the restored buildings. Best of all, there is no entrance fee!
8. Go to the Beach
Of course Hainan is a tropical island and you will want to go to the beach! Haikou has two main beach options, Holiday Beach 假日海滩 and West Beach 西秀海滩. In actuality, the two beach areas are located on different stretches of the same coast.
Holiday Beach is the more popular beach for swimming, and is also a great place for BBQ! You can rent your own BBQ pit, and buy everything you need including charcoal, skewers, and food right at the beach. Or save some money and bring your own!
West Beach is the place to go for sailing and windsurfing. Equipment rental as well as lessons are available here, and you'll be up in no time!
For an even more exciting adventure, why not go Kitesurfing? Haikou Flyin' Circus Kiteboarding Club has everything you need.
9. Go to the Zoo 海南热带野生动植物园

The best zoo in Hainan is located outside of Haikou, at the Hainan Tropical Wildlife Park and Botanical Garden. One section of the park is for hiking, and one section for a driving safari. Animals here include Ligers, Tigons, Lions, Tigers, Elephants, Bears, Giraffes, Hippos, Ostriches, Crocodiles, Buffalo, Monkeys, Elk, Deer, and many more. Kids of all ages will be especially excited to see all their favorite animals!
Website: http://www.hntwzoo.com/hntwzoo/english/about_us.asp
Ticket Price: 95 RMB/ person, children under 1.2 meters free with accompanying adult.
10. Get some local Haikou Food 海口烧烤

One of the best things about travelling is getting to try the local cuisine! Here in Haikou, the locals enjoy late night BBQ, where you can get skewers of mutton, beef, pork, grilled fish, clams, oysters and more, cooked fresh to order right in front of you.
Haikou Fried Ice
After dinner you've got to try a local dessert, like qingbuliang 清补凉, a sweet coconut soup, or fried ice 炒冰, a fresh fruit sorbet! If you aren't sure where to go to get it, try Qilou Snack Street (different from Qilou Historic Street, even locals get them confused!), located on Datong Ave., where you'll find all kinds of Haikou food in one convenient location.
We hope you have an excellent time here exploring Haikou, and if there's something you love to do here that we missed, let everybody know about it over at the Visit Hainan forums!
By Nicki Johnson
7/28/15